The piercing tail
Scorpions can thrive the harshest of conditions. They are a symbol of passion, determination, defence, rebirth and people born under the stars of Orion (Scorpio) are highly determined. Whether you are a Scorpion or simply love Scorpions, this not-so-poisonous Scorpio will magnificent yet menacing - we personally admire the details on its piercing tail!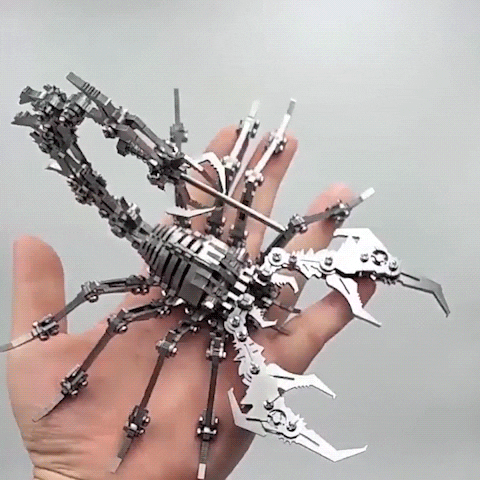 Features
⚙️ Movable parts
⚙️ Tools provided
⚙️ High-quality stainless steel
⚙️ 185 pieces
Therapeutic, fun, rewarding.
There's always something unique about DIY activities, they give you that sense of accomplishment once you've achieved your goal. The same applies to this amazing scorpion metal kit, it will give you a fun activity to do whilst being highly therapeutic as you build. Start your journey now.
*Measurements: 16cm * 14cm * 14cm
Note: A step by step instruction guide will be included in the product with easy to follow picture directions.
⚠️ Warning: This product contains small parts which is a choking hazard. Therefore, for the safety of our customers, it is not suitable for young children under the age of 14 unless under strict supervision of an adult.
Free tracked shipping to the United Kingdom, United States, Canada, Netherlands, New Zealand, Australia, Germany, Belgium, Denmark, Spain, France, Italy, and more. Find out more in the Shipping Policy.
Processing time: 1-4 days
Shipping time: (Est.) 5-15 days
Can I return my order?
Yes, we allow returns within 14 days of receiving your item(s) and will provide a full refund. To be eligible for a full refund, see our Refund Policy. Please note, you will be responsible for paying the shipping costs when returning the product.
Can I cancel my order?
We allow order cancellations within 8 hours of purchase. Requests to cancel any orders later than 8 hours will not be granted due to order fulfilment.